30 Days of Gratitude Starts Today! 
     I usually love this time of year. We are heading into the holiday season, which in normal times would be the beginning of parties and shopping – both of which I love. But most of all, I love the precious time spent with the people that mean the most to me. Saying this year has changed a lot in our lives is an understatement. As we head into the holidays, I can honestly say I'm struggling to adapt to our new "normal". Family gatherings will look different for many of us. My family will be missing one special person, as we lost my grandma in June to Covid-19. 
But I refuse to let this pandemic steal my joy, especially at this time of year. I decided to put together a calendar with daily gratitude prompts to stay focused on the blessings in my life. And since I know I'm not the only one having a tough time, I figured I'd share it with you too.
There are so many things to be grateful for, and sometimes I forget that.  Just writing this calendar brought me so much joy – I hope it will do the same for you!  
Why Practice Gratitude?
Practicing gratitude can improve your mood and overall outlook on life. Study after study has shown that people who regularly express thanks experience improved physical and mental health. Gratitude is just what we all need to make it through this very long and difficult winter. But don't take my word for it, read more about it here: gratitude | gratitude
Follow the link below to sign up and download the gratitude calendar today. I'll also be sending some special messages on gratitude during the month of November. And in December, one lucky subscriber will receive a Christmas gift from me! 
Please forward this post to friends and family – invite them to join you for 30 days of gratitude. Let's make the rest of this year the best of this year!  
From the bottom of my heart, I am grateful for you!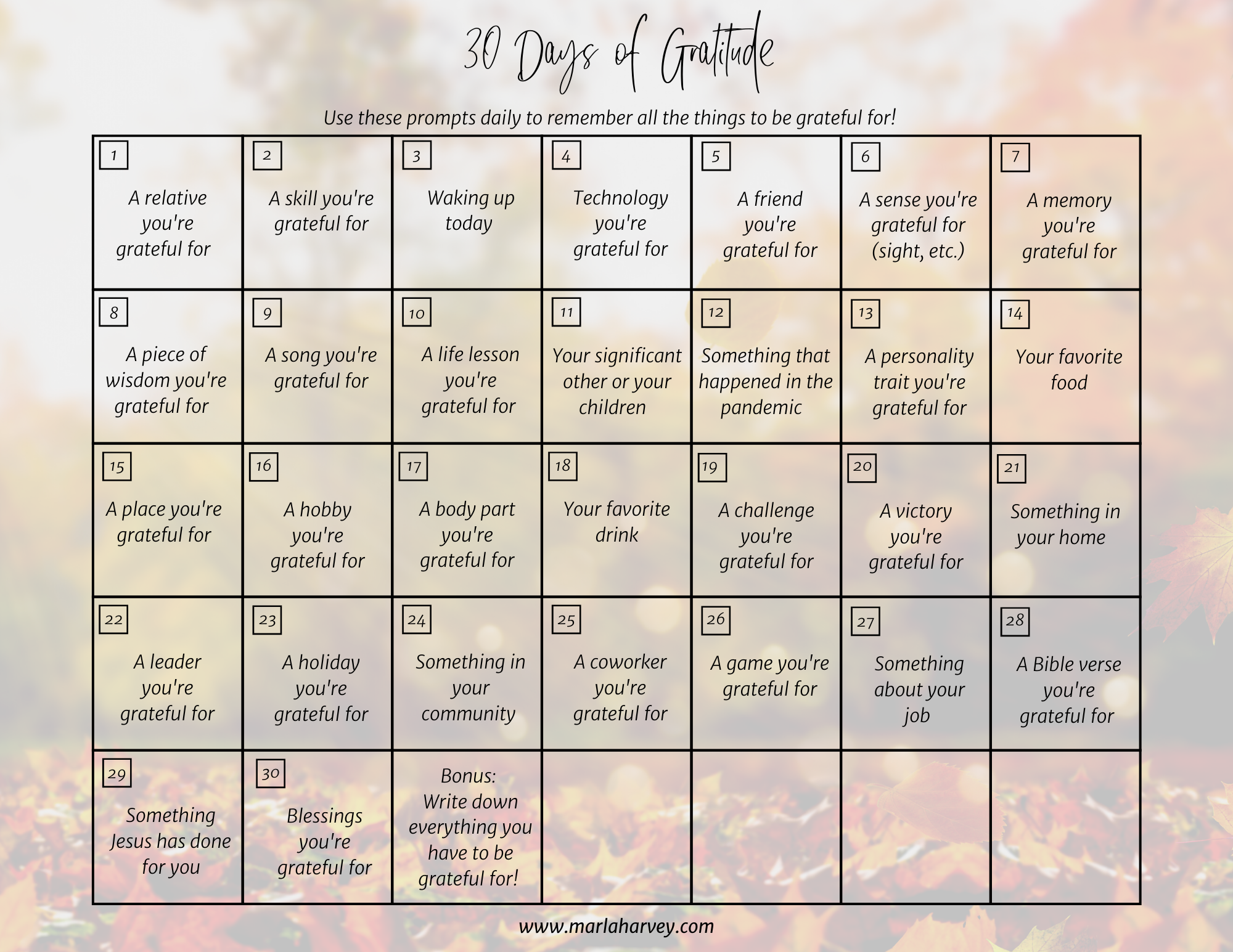 PS – if you're feeling stressed out right now, here's some tips I put together to help manage stress: 5 Tips to Manage Stress